Sign up for 1-month free fleet plan trial #
1. To try Fleet plan free for one month from the get-go, click on the Pricing tab on the top or Pick a plan button on the middle.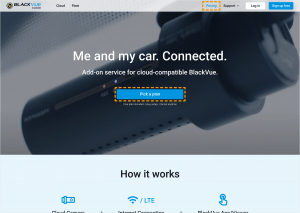 2. Check out the most beneficial plan to you and click on the Try 1-month free button on the Fleet card if you want to try it free for one month.
3. Fill out the sign-up form and click on the sign up with email button.
4. Make sure that your password includes at least 6 characters with a mix of letters, numbers and symbols.
5. Fill in the 6 digit code sent to your email. Make sure that this page is open while checking the confirmation code. Try to search for our email in your spam box if you can't find it in your inbox.
6. Fill in the code to verify. Once it's completely filled out, you will be logged in automatically.
7. Fill out the billing information on this page. While providing billing information, you also need to let us know how many cameras you will use while subscribing to the Fleet plan. Check out the total due after 1 month free trial. It will be charged at the beginning of another billing period.
8. Then, click on the Try 1 month free button. If you provided valid billing information, you will be logged in as a Fleet user.