SIM Card list / SIM card status #
SIM card list  #
You can easily check your registered SIM card information on the SIM card list
SIM card status #
The status of the SIM cards are: Subscribed, Canceled, and Terminated
| | |
| --- | --- |
| Icon | Status |
| | Subscribed |
| | Canceled |
| | Terminated |
SIM card detail #
Click the SIM card you would like to see in detail.
Then a SIM detail page will show up.
You can check the ICCID number, SIM card status, and other detailed information.
Manage Subscription Plan 
#
Manage Your Plan #
On BlackVue SIM, you can easily manage the plan you are subscribed to. As an overview, BlackVue offers 3 different data plans:
The changed plan will be changed on the 1st of the following month. Below Next Billing on, the next payment date and the changed plan are indicated.
Cancel your Plan #
When you cancel your subscription, you still have access to the benefits of your plan until the end of your billing cycle.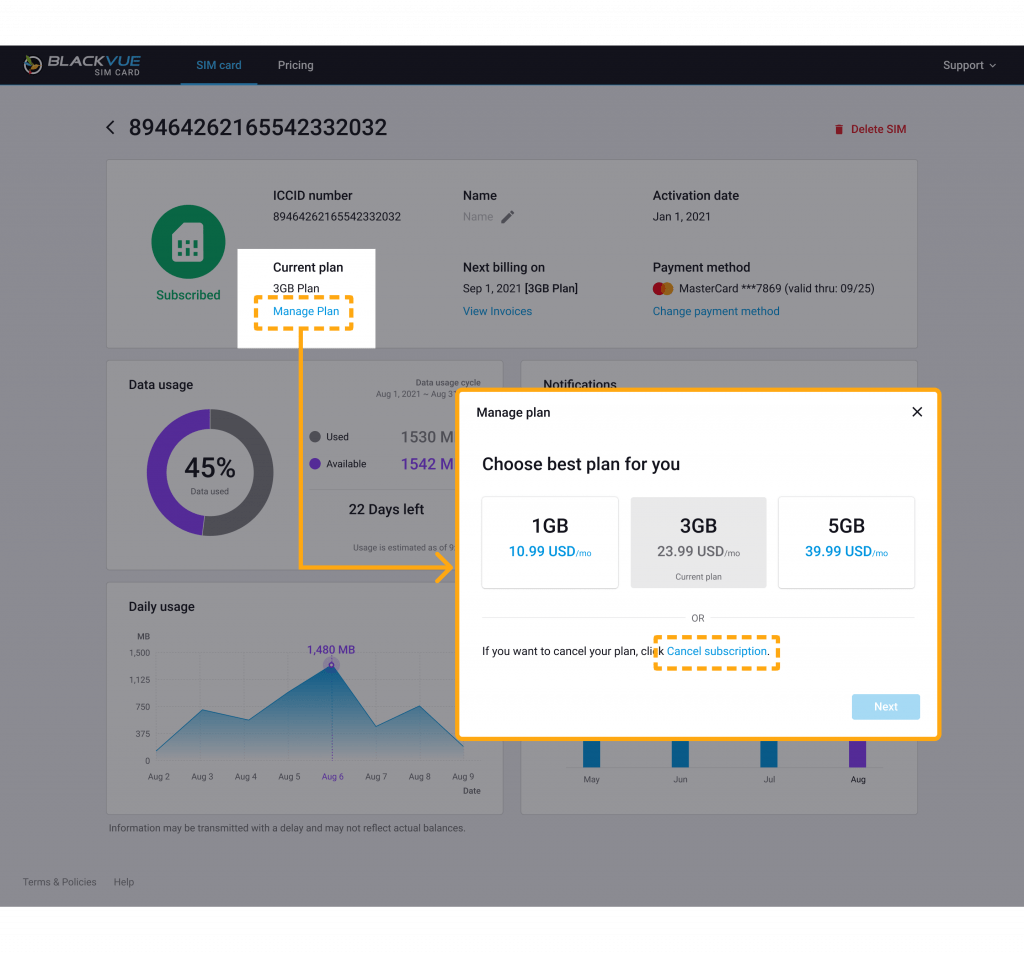 Upgrade your Plan #
After (or during) your Free Trial, you can upgrade to the plan by navigating to your SIM detail page. 
If you select the plan you want to upgrade, it will be upgraded to that plan from the 1st of the following month.
Renew a plan #
We will be automatically renewing your BlackVue SIM Data plan monthly, depending on the billing type you choose. On your BlackVue SIM detail page, you can see your subscription billing cycle.
SIM Termination #
When the service period expires, the Sim card will be terminated immediately. Once the SIM card is terminated, it cannot be subscribed again with that sim. You have to contact the CS team and ask to deliver it again.
Manage Payment Method 
#
Resubscribe a plan / Restart your SIM Card plan #
After your plan expires, you can resubscribe for 30days. Your SIM card will be disabled until you renew a plan. If you want to restart your service plan, please click the 'Resubscribe' button on the plan you want to resubscribe. 
Check Your Current Plan  #
You can find an overview of your subscription(s) on the SIM Detail page. You can also see here SIM information (Activation date, Next billing date, etc)
View invoices #
The billing given by strip will open on a new page. Listed are the billing price, number, and purchase date. The billing and receipt are also downloadable.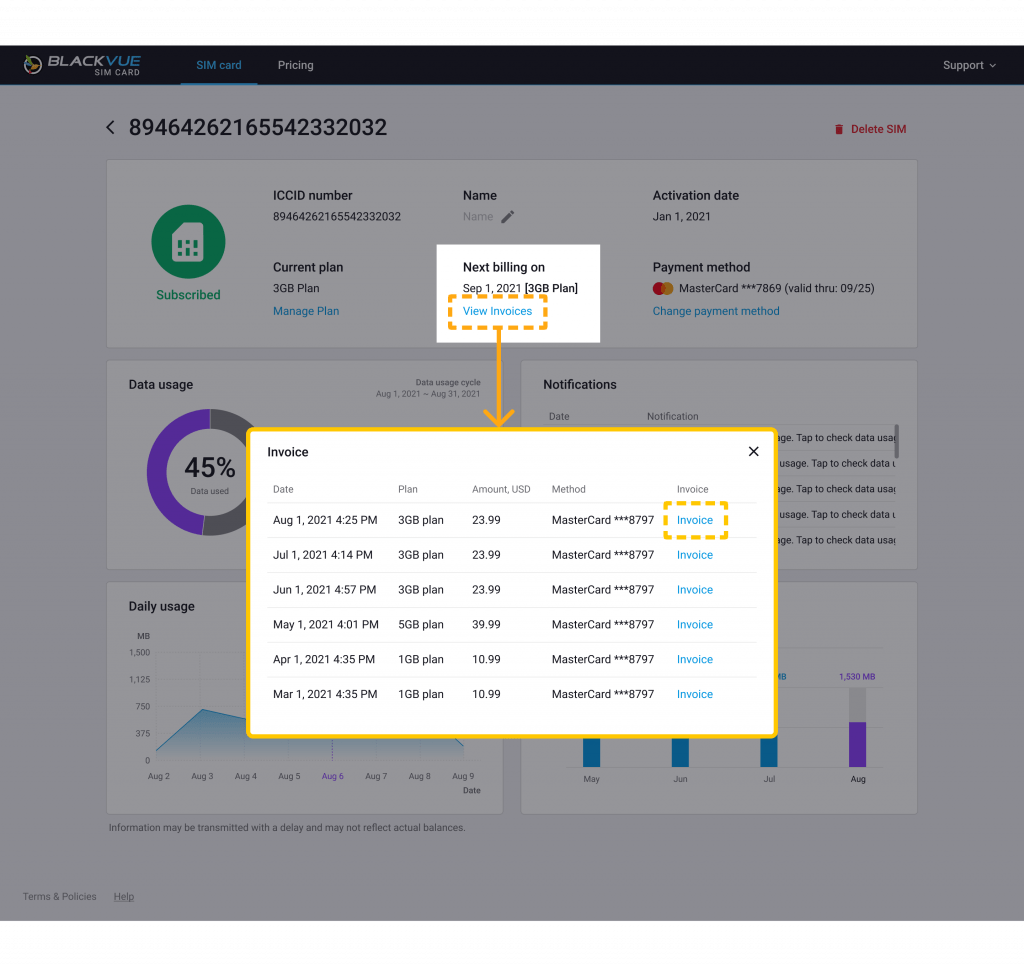 Edit your billing details #
You can edit your billing details at any moment. Click 'Change payment method'.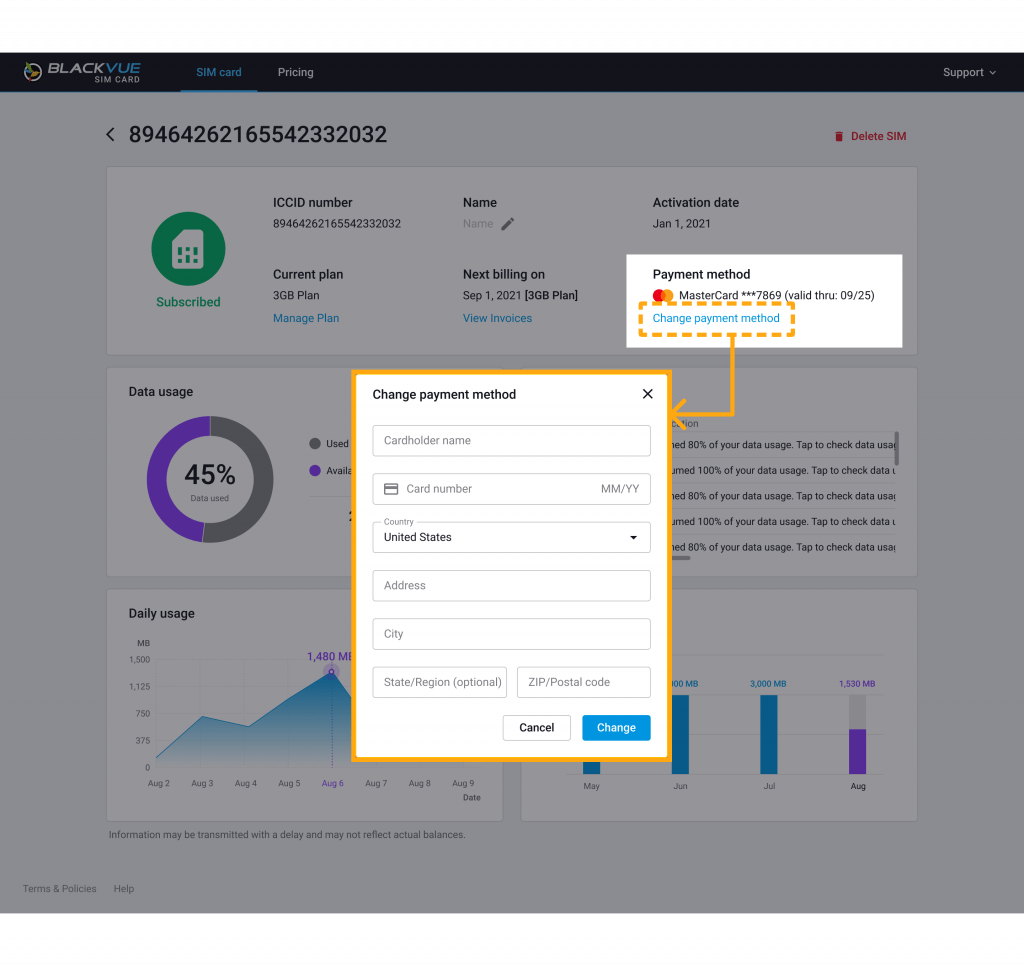 Refund policy #
You may cancel your subscription at any time, but given the nature of digital products, we cannot refund any amounts that you have already paid. You can find more information in our Terms and Conditions.
Manage Data Usage 
#
Data Metering
#
Usage information posted on the SIM Card dashboard comes from our carrier partner(Telenor). It is hard to check the data usage live, Information may be transmitted with a delay and may not reflect actual balances.
BlackVue SIM Notifications
#
| | |
| --- | --- |
| Types | Description |
| Subscription Expired | Raise an event when the system state changes. |
| Only 1 day left: Continue the BlackVue SIM card service | Raise an alert a day before the SIM terminated. |
| 7 days left: Continue the BlackVue SIM card service | Raise an alert 7 days before the SIM is terminated. |
| Data limit reached | Raise an alert when the usage limit is reached. |
| Data usage Warning | Raise an alert when the data usage consumption was 80% used. |
What can I do if I haven't received an email notification?
#
When you add your SIM, BlackVue will send you an email to give you SIM card information. If you can't find the email, these steps can help.
If it isn't in your inbox, check your folders. if a spam filter or email rule moved the email, it might be in the Spam, Junk, Trash, Deleted Items, or Archive folder.
What can I do if I don't want to receive email notifications?
#
we will send the email notifications in subscription and data warning cases. If you don't want, please move it to the spam, junk folder.